We already got several character threads, however I do feel like this particular one deserves some special attention: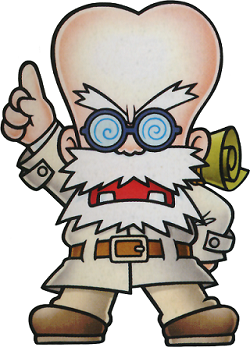 Mad Scienstein or Arewo Shitain-hakase made his first appearence in the Japan-only title For The Frog The Bell Tolls, but would later resurface in Wario Land 3, Dr. Mario 64 and Wario Land 4.
(For the record, Scienstein being the same character between Land 3 and 4 is confirmed on the japanese Land 4 website.)
I find him to be a pretty interesting case, he is in a way, to Wario what many Mario 2 characters are to Mario, but thanks to the lack of a consistent cast in the Land series he also ended up being one of the most notable characters in Wario Land, second only to Captain Syrup.
Either way I like him quite a lot, both from his FTFTBT and Marioverse appearences and I want him back in any new Wario platformer that we could maybe get,
plus he creates a link between FTFTBT and Wario, which is fine by me
.