I'm going to be talking a bit about my favorite Wario Land game; the one for the ill-fated Virtual Boy console and often considered its best title. Yes, I'm talking about none other than
Virtual Boy Wario Land
.
Not much is said about the enemy faction Wario faces in this game, nor have I seen any conclusions drawn about them here or in the Mario Wiki's trivia section,
nor
do they even have an official name! So today, I'm going to be taking it upon myself to do what hasn't yet been done to profess my love for this game.

Given where they reside,
their
leitmotif
, and the designs of the Mask-Guys, we can safely say they're a tribal cult of sorts.
Though they also have, unlike most of their kind in fiction or reality, technological literacy. As evident by the elevators at the end of each stage and
Level 11
(which is a trap-ridden factory full of burners, lasers and all sorts of other deadly gizmos.) Also of note is the Tank Boss in the stage after.
So then what about this guy?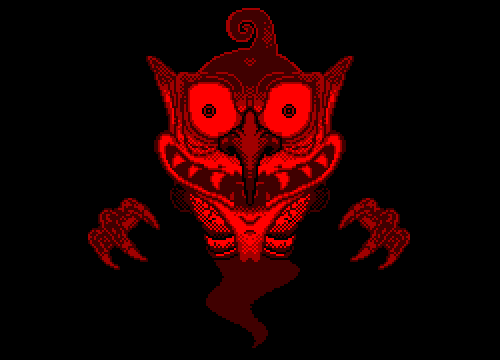 This is the final boss of the game, a being known simply as "Demon Head". He has no backstory, no dialogue, not much of anything that would traditionally make a good villain. But you have to admit, he's pretty cool looking.
But is it possible he has some kind of link with the rest of the enemies in the game? I think so.
Why else would his likeness be etched into the background of the Treasure Rooms?
Given this and how you see in the intro
Mask Guys carrying treasure to a gigantic door with his mug on it
before tossing it in as some sort of tribute, it's likely Demon Head is a deity this tribe worships. One who grants his followers with power in exchange for riches. It only makes sense when you connect the dots, and it makes even more sense when you consider he's the final obstacle preventing Wario from running away with all the loot!
Last edited: