FIRST AND FOREMOST, I MUST WARN YOU OF SPOILERS. IF YOU WANT EXPERIENCE THIS GAME BLIND, DON'T READ THE REVIEW.
I wrote a review for Wario Land: Super Mario Land 3 after finishing it for the third time. I decided to write a review for the second Wario Land game as well, which is Virtual Boy Wario Land. I just finished the game for the first time (
unfortunately using an emulator
), and let me tell you right off the bat, the game is really good and possibly the only virtual boy game worth playing.
I finished the game with around 20k gold, but only got half of the treasures. Obtaining all the treasures gives you a special ending where wario flies out of the cave with a mistress and a magic bottle. However, if you don't get all the treasure, the game gives you a rank based on your gold earnings, which affects your ending. In my game, Wario flew out of the cave on the back of some weird dinosaur.
I'm going to be rating aspects of the game in WAAHs, 1 WAAH being lame, and 5 WAAHs being excellent.
STORY:
The story is very basic. Wario flies into a jungle to have a relaxing vacation or something. He suddenly spots a few masked creatures hauling treasure into a cave. Of course he can't just keep having a nice vacation, this is Wario we're talking about! He wants the treasure to himself, so he decides to follow the creatures into the cave, but is surprised by a trap door. Wario gets stuck in the cave, and the adventure begins. The game ends with Wario succesfully flying out of the cave. His plane has apparently broken down and/or been captured by some creatures, so he flies out with other means, depending on your gold earnings and treasure.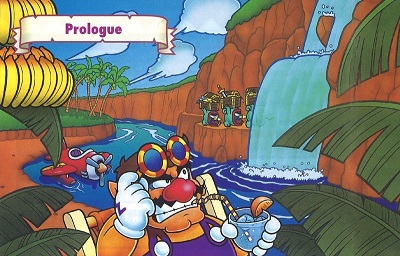 I rate the story 3/5 WAAHs, it's not bad but it's not excellent either. I really like how it shows off Wario's immeasurable greed.
GRAPHICS:
If there is a game to showcase the Virtual Boy's visual capabilities, this is it. The graphics in this game are amazing, despite the red tint given by the Virtual Boy hardware. Everything about the visuals is great. The backgrounds are lovely and 3D, the effects are great and the sprites are oh so lively. I love Wario's sprite in this one.
The graphics in this one are better than in some later Wario Land games, thanks to the hardware of the Virtual Boy. I give the graphics a WAHnderful 5 WAAHs, because they're the best after Wario Land 4, and really the best the Virtual Boy can offer.
SOUNDTRACK:
The soundtrack isn't much to look at (
or listen to, rather).
It has a very different feel from the first Wario Land game. It is more eerie and dark and I think they went with this because the whole game takes place underground. The music doesn't exactly scream Wario, but it fits the theme of the game. I give it 3 WAAHs.
GAMEPLAY:
The gameplay in this one is similiar to that of the first one. It's the classic Super Mario format enhanced, but this time there's also a 3D element where you can move between two dimensions. Wario can shoulder bash his enemies, and if he takes a hit he turns into Small Wario. Take a hit as Small Wario and you're done. The game features 4 power ups this time. Bull Wario, Eagle Wario, Sea Dragon Wario, and King Dragon Wario.

There's a specific item for Bull Wario, Eagle Wario, and Sea Dragon Wario. You get King Dragon Wario by mixing the Sea Dragon and Eagle power ups. Just like in Wario Land, you can also eat a garlic when you're big Wario, to transform into Bull Wario. The garlic also makes Small Wario grow of course.
Bull Wario, just like in the first one, can break blocks instantly with his shoulder bash, and can ground pound. Additionally, this game features blocks that are only breakable using Bull Wario or one of the Dragon Warios.
Eagle Wario is same as in Wario Land. You can shoulder bash in the air, or you can just manually fly. Just like in the original Wario Land, this power up gives you an edge in speedrunning.
Sea Dragon Wario is equivalent to Dragon Wario from Wario Land. It gives Wario the ability to shoot fire into his enemies, as well as break fire blocks.
King Dragon Wario is a combination of Eagle Wario and Sea Dragon Wario, and it allows Wario to both fly, and shoot fire. King Dragon Wario shoots fire in distinct orbs, where as Sea Dragon Wario just spits one continuous stream of fire. King Dragon Wario's fire goes through walls, and can be used to find secret blocks, or break blocks out of Wario's reach.
The gameplay is very similiar to the original Wario land, except more fluid. The gambling minigame from the original Wario Land returns as well, but on a larger caliber. Now you can get triple, six times, or even ten times the gold you have! As I stated in my Wario Land review, I really like this format and hope for another Wario Land game which uses it. I give the gameplay 4 WAAHs, as it's just as fun as the original Wario Land's, but the game is so short.
ENEMIES:
There's a bit more variety to the enemies and obstacles this time around. There's enemies that are harmless, just like the unarmed Gooms in the original Wario Land. Then there's enemies that carry weapons, enemies that throw objects or weapons at you, enemies that travel between dimensions or even spawn minions etc. There's different obstacles and inanimate enemies as well, like Fruits that demand fruits from you to move out of the way (
yes, really)
or sand piles that are alive, and can be scared off by a tornado. Then there's spiked balls that move between dimensions or otherwise.
The game is about 65% shorter than the original Wario Land, but there's still some bosses you have to fight. 4 in total actually. This game features a final boss actually worthy of the title. The Demon Head.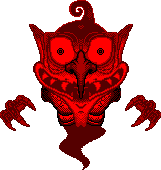 This ugly son of a gun is not only creepy and menacing enough to be the final boss, but it's actually pretty challenging to beat. The boss fight has you dodging his ugly claws and fire he spits, by jumping between dimensions. Hit him on the nose 5 times and you win. Now let me tell you, it took me exactly 11 lives to beat this freak. His movement is so unpredictable, you might find yourself cursing out loud while playing.
I give the enemies 4 WAAHs, because this time there's more variety, and even though the game is fairly short, you will be satisfied with the amount of enemies and bosses.
LEVEL DESIGN:
The level design is way less linear this time around. First of all, you might be surprised by how many levels feature vertical movement, instead of horizontal. The game is very short, with only 14 levels in total. (
About the same amount as the original Super Mario Land
) This time, there's a treasure in every level with the exception of boss levels. The game forces you to explore, because this time around the exit of each level is locked, with the key hidden somewhere in the level. If you wish to find all the treasure, be prepared to explore the levels even more.
The level design overall is just as good as in the original Wario Land, if not better. Some levels are harder than others, and I suppose one criticism I could give is that the level design is not that simple, so casual players might find themselves frustrated sometimes. The game is
very
generous with it's time limits though.
The special thing about this game's level design is obviously the 3D element. Enemies and obstacles can interact with two different dimensions, and Wario can move in between them too, using special jump pads. This makes for an interesting experience especially for treasure-hungry players.
I give the level design in this one a whopping 5 WAAHs as well, because it really shines. It's as good as what came before, and the 3D element is a nice twist.
CONCLUSION:
Virtual Boy Wario Land is the second game in the Wario Land series, and it is truly an oddity. A hidden gem, even. Many people don't even know it exists, because of the commercial failure that the Virtual Boy was. Heck, even I just found out about the game a month ago. (
which is why I hadn't played it until now
)
I can't recommend this game enough for all Wario fans, it has all the fun of the original Wario Land in a Mario Land sized package, with astonishing visuals!
I give Virtual boy Wario Land a solid 4 WAAHs, because even though it is short, and on the Virtual Boy, it is just as good as the original and deserves a place in anybody's Wario collection.
Last edited: