While making some "Wolfenboss" sprites I looked at his Mario Wiki page.
This is the supposed source for his name. A random walkthrough on a random old dead website.
Listen to this:
"Elude the smoke signals thrown out by Wolfenboss (for some reason, they're shaped like the Tao symbol) and wait for him to toss out spiked balls. The balls will metamorphose into these flaming enemies, which you can bash into Wolfenboss."
Smoke signals? I'm pretty sure those are supposed to be wisps. You know, ghostly stuff? Cuz it's a spirit?
"The balls will metamorphose.." You mean they crack open?
"these flaming enemies" Flaming? What the hell are you talking about? It's a chestnut. It's so obviously a chestnut. How can you not pick up on the fact that it's bleeding obviously supposed to be a chestnut?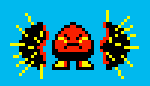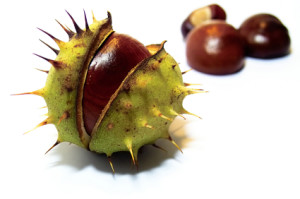 It's shaped like a chestnut, it comes out of a spiky shell like a chestnut, it's so obviously a chestnut!
Even if you didn't think it was a chestnut, how do you see fire in this? Just because it's red?
"flaming", "FLAMING" ...wow.
"for some reason, they're shaped like the Tao symbol"
Yeah, that really sounds like someone who's an authority on the game.
Besides, it's a wisp spinning in circles. It's always gonna have that shape. So it's likely just a coincidence.
Also, the name itself. "Wolfenboss".
That's exactly the kind of name some random intern would come up with.
"What's this guy's name?"
"I dunno... he looks like a wolf... and he's a boss...
...wolf...and...boss...
...wolf'n'boss...
....that's like a... Wolfenboss.
....get it?

NEVERMIND THE FACT IT'S NOT EVEN A WOLF!
It's a friggin Kitsune! A fox! Not a wolf!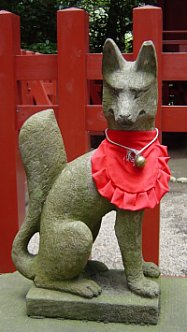 It's such an obvious mistake to make, if you're not familiar with basic Japanese folklore.
This was most likely the same person who set up the website, some random web designer at Nintendo of America...
That's like 3 degrees of seperation from the game devs.
Sorry, but I just can't see these names as canon.
Even if they are the only names we have.
I'd rather just call him "The Kitsune Boss" than Wolfenboss.
If this was an actual member of the localization team, I'd accept them, but that seems highly unlikely.
Even some officially licensed strategy guides have some questionable info in them (like how one Superstar Saga guide called the fat Koopas simply "Turtles". How is that an official name?)
What do you think? Do you think these names are official? Like... OFFICIAL-official?
And on a somewhat related note:
What are some of the stupidest things you've seen written in "official" guides?