Thanks to
@shinespeciall
's level editor. Basically, he posted screenshots of the tile editor for every single level in the game, showing all the game's foreground and background tiles for their respective levels:
shinespeciall/WarioLand4MultiEditor
And as it turned out, the game had a few more secrets in store there! For example, in Crescent Moon Village's tileset, this door and window can be seen:

Neither of which are present in the level in any form, nor match the art style of the rest of the stage. This implies Crescent Moon Village's tilesets went through a fair bit of revision in the game's development process, since nothing about these tiles matches anything else in the game.
Here's how it may have looked in game (with final palette):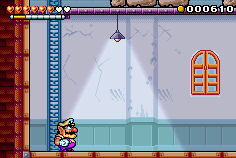 Either way, the 'design changes' aspect is also supported by another unused tile found in the same stage, this time in its sewer sub maps:
As you can see, it's a sewer grate like those in the stage background. However unlike said versions, this one is placed on top of foreground blocks, indicating that it was at one time meant as a decoration for the foreground tiles instead. Here's how it may have looked in game:
Finally, Hotel Horror has a tile for a skull found in the wall:

This is very similar to the 'fake wall hint' from Palm Tree Paradise, and implies the designers were going to use the same motif there too. Here's a mockup showing how it may have appeared: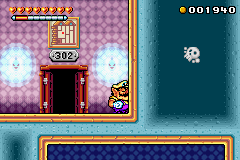 So yeah, some interesting small discoveries there, don't you think? Wonder what other unused stuff will be found due to this level editor!