Ahoy, everybuddy! Thought this might be something of interest since many have voiced their hopes for a new Wario Land game. I have recently started plans and development for a game inspired by our favorite greedy treasure hunter/entrepreneur and his misadventures.
Do keep in mind that, as of this writing, the project is in its very early stages. So things might still be rough. However, this will basically be a development thread, so things will be added once more progress is made. Comments, feedback and even ideas are fully welcome! Without further ado...
---
Title (Maybe tentative):
Banzai! Mint & Toffee!
General plot:
Two best friends obsessed with treasure hunting have stumbled upon some interesting talks on the internet! Apparently, a group of faroff islands hold many treasures as well as a very, very special one. What could it be? Banzai! Mint and Toffee set off for adventure!
Characters:
Mint (the player character)
16 years old
Somewhat short
Sarcastic and passive; usually cool-headed
Hates heights
Loves baseball
Toffee
Mint's best friend and partner
14 years old
Taller than Mint in spite of being younger
Cheerful, resourceful and bright; but can be rather mercurial
Hates coffee
Loves money
Gameplay Details:
Every level is essentially one big treasure hunt. You control Mint as you collect coins (called doubloons) while also hunting for all the hidden treasure chests. How you find the treasure chests will vary by level, of course. Once you find all the treasures, you will head back to Toffee, who will appraise everything you've picked up.
Assorted Ideas to (Possibly) Implement:
Unlocking branching paths within levels?
Have a use for doubloons?
Needing adequate access to bosses in order to fight them?
Defeating bosses unlocks a few more levels on the current island?
Special treasures that serve a purpose in levels or the island map?
Ending depends on treasures you collect?
Scrapped Ideas (as well as why they were scrapped):
Two characters, Cinnamon and Red Velvet. The former was meant to be the game's main antagonist, but I really couldn't figure out how to properly place her within the story. She would have been more of a rival character, mostly getting in Mint's way and being an overall nuisance to the end. She was also going to have an army of goblins at her beck and call. But with her design, I felt people might try to relate her to Tron Bonne (doesn't help that I imagined Cinnamon being quite proficient with machinery). As for Velvet, she was a very old design, but up until now I haven't figured out what I want to do with her, if anything. I once considered her being a merchant.
Mechanic that would put Mint into a "greedy" state, increasing the value of doubloons you collected. Scrapped because I felt it to be pointless.
Ideas I'm Struggling With:
Basically, what I've been going back and forth with is a mechanic for Mint herself. As in what she can do within levels to find treasures or overcome enemies. I'll list below what I've considered:
Mint having to lift and carry objects and enemies to throw them at other things.
Mint having a striking weapon similar to a sword or a bat. This would be combined with her stomping on an enemy to stun it then using said weapon to finish them off. Or hitting things in the environment to cause a reaction.
Mint using a robot helper, built by Toffee, for attacking or other tasks.
Mint using gadgets she obtains from Toffee to carry her through levels.
Mint being able to "collect". Think of it similar to the Villager's Pocket in Smash Bros. Mint will basically "pocket" an item (or an enemy) and place them in her "inventory". And when she needs to, she can chuck out whatever she has. Or, if she keeps them, they will be appraised by Toffee who'll make a comment about them.
In addition, I haven't completely thought of many good boss ideas yet. Well, except one about an effeminate octopus...

List of Treasures (subject to change):

-Bottomless Chalice
-Dark Pearl Necklace
-Lavish Rug
-Golden Hercules
-Fairy Satchel
-Lullaby Box
-Mysterious Gear
-Crown of Greed
-Legendary Net
-Fang Jewel
-Ruby Apple
-Vintage Drink
-Mouse Pendulum
-Forgotten Painting
-Vanish Shroud
-Almost-Finished Puzzle Cube
-Ring of Eternal Love
-Porcelain Girl
-Dynasty Teapot
-Robe of Greed
-Invaluable Armor
-Intrepid Goggles
-Wishing Stick
-Fishbone Spear
-Astonishingly Ancient Parchment
-Hope Diamond
-Overdue Tome
-Songbird Ocarina
-Very-Comfy Cushion
-Cerulean Scale
-Super Tasty Potion
-Relic Mask
-Gauntlets of Greed
-Guardian Bust
-Miracle Medicine
-Skull of Greed
-Fanciful Cake
-Flamboyant Feather
-Unstoppable Shield
-Prehistoric Amber
-Loyal Boomerang
-Goddess' Fashionable Earrings
-Unknown Seedling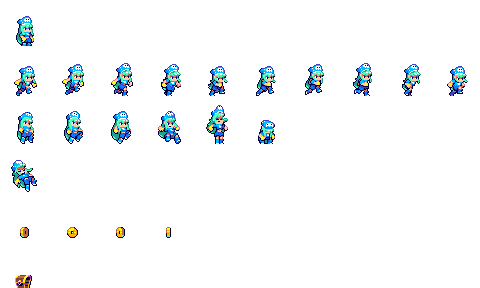 Finally, here is some pixel art done for the game thus far, done by the very talented
Angus Doolan
.
And that is all for now! Do wish me luck with this project, you guys.

Last edited:
4

4