Back in WarioWare Touched, the game featured a map of Diamond City that looked like this: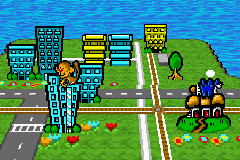 And it's been ripped by someone on the Spriter's Resource as one big image, shown here:
http://www.spriters-resource.com/fullview/1179/
But this isn't a good rip. Why? Because the map shown there seems like it'd work much better as an overworld tileset. Like, for Super Mario World or Super Mario Bros X games. So that's what I've been doing:
So yeah, anyone think I should finish this? Would it be useful for fan games that want to create their own version of Diamond City?
What do you think?