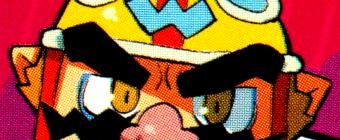 Wai! Wai! Wario! was a 7 pages long one-off gag manga created by Ryuusuke Hamamoto and published in Famitsu DS+Wii magazine in February 2006. It is based on WarioWare: Touched! According to mariowiki.com
Did you guys knew this existed? Well there wasn´t any english translations even though it wasn´t that hard for me to translate it.
And since I found out about this manga thanks to this forum I decided to sign up and upload it here.
Well my english is probably kinda bad. If there are any mistakes in my translations or my english feel free to correct me.
Also in japanese Mona calls Wario, Wario-ojisama or just Ojisama, but in official english translations they just translate
it as Wario so I did the same.
The Story itself has Mona and Wario as main characters, probably because they are normally considered to be the most important characters of the franchise. Other popular characters like 9-Volt, 18-Volt, Kat&Ana and Ashley are also appearing.
Last edited: