Referenced in Smash Bros. 4 in the form of his walk cycle, which infers that he can do it at will, if only a bit, which begs the question, how and when did he get it corrected, what were the circumstances behind that in the first place, etc. The Mario v. Wario comic that can be explained in the form of his Giant Wario costume having a mismatched eye, or like, dark magic exacerbating it, or whatever, but still, I have to wonder.
You know, this handsome devil.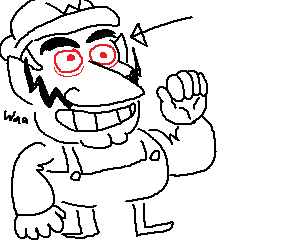 It was in his first appearance, the first Wario Land, and some other miscellaneous appearances before mysteriously disappearing. The question is, where did it go?
Particularly
,
where did it go in canon???
Last edited: